Did. Not. Finish. DNF.
Those letters are now forever branded on my power of 10 like a regrettable tattoo.
Not finishing a race is something I never thought would happen, let alone in the most important race of my life. I always imagined that if I ran into trouble, I would solider on, Run Fat Boy Run style, dragging myself to the the finish line, no matter what.
Sat on the kerbside imitating scenes of Paula circa 2004, I had to accept defeat - 26k of crawling was just too far. Medical attention comes, my left leg is splinted and I am carried into an ambulance to god knows what hospital in Toronto.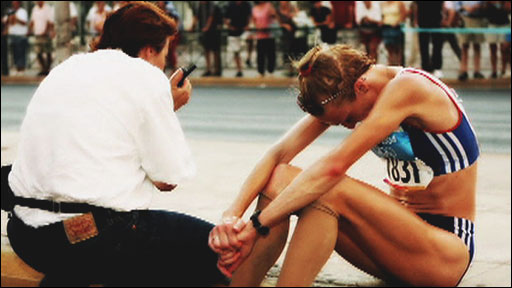 First question - "how do you intend to pay? - you can claim it back from your travel insurance" - So far the cost is over $1200 - all I have is my Garmin to barter with. Strangely, it's hard for them to believe I don't have at least a credit card sat in nothing but a vest and racing briefs.
I get one phone call (of course my mother doesn't answer as it was a strange number). A doctor assesses me by taking off my compression sock to realise that actually I was probably in quite a lot of pain ("JUST F***ING CUT IT OFF" - the sleeve, not my foot!). After what seemed like forever, Spencer materialises into the ER - I have never been so happy to see someone in my life. An X-ray shows no fracture and an MRI is recommended. I'm booted, given crutches and sent on my way, non the wiser on why my left ankle is causing me significant pain.
My preparations for Toronto were challenging from the get go. Making the start line was a real battle and I have been tested both physically and mentally. However, I managed to string together 3 weeks of excellent training, including a comfortable run winning Bournemouth Half Marathon 2 weeks out from race day. I surprised myself how fit I had become. All that aerobic base really pays off.
I decided to have a hard tempo with a season opener at the Hampshire League, finishing 5th - nothing will keep me away from cross country. The following morning, a nasty pain started in my left ankle. This proceeded throughout the week and on easy runs around Toronto. I saw the physio twice, iced until I gave myself ice burn and proceeded to lather in deep heat. I told myself it would be okay. However, deep down I knew this pain was something bad.
Dosing up on paracetamol, I started the race, jumping aboard the 2.39 pace train, driven by the lovely Kenyan, Johana. Riding the train was a Canadian contingent of Catherine Watkins, Melaine Myrand, Lyndsay Tessier and Mexican, Faviola Perez. Working together and being encouraged by Johana, the pace felt really comfortable. My ankle however, did not. "Run brave", "Be strong, stay in the moment".
Passing through 10k my ankle range of movement was decreasing. "Run brave". At 16k, I grabbed my bottle and lost some ground on the pacer and Melaine. I put in a small surge to avoid "derailment" from the pace train. Then it happened- I couldn't run.
And the train of athletes ran away into the distance.
"Nothing in my life has broken my heart the way running has. And yet I cannot breathe without it" - Kara Goucher
Clearly, I never imagined that my England debut would end this way. However, the experience was incredible and I have learnt so much. Running with Kenyan's and race winner (2.06 guy) Philemon Rono on a shake out was an experience I will never forget. You learn a lot from other athletes. Running is a community like no other. Being able to extend that and be inspired by other Canadian and Kenyan's athletes is really special.
Since the announcement of the Commonwealth Games England team, there has been some comments surrounding sending an England team all the way Toronto, which I understand. This opportunity is emphasised for development and a learning experience of being an international athlete. The relationship between England Athletics and the Canada running series has been going for a number of years, the latter providing the majority of the funding.
I was able experience the demands of having a long haul flight and dealing with acclimatisation to time zones. I had my first experience of interviews and networking with other major road races for racing opportunities in the future. Preparing for drinks stations was new to me too, which turned into something like Blue Peter by making our bottles easily identifiable. I had never ran with a pacemaker before and it made running so much easier but involved some logistical challenges. Elite races are still very new to me and it's still quite overwhelming being surrounded by such high calibre athletes.
Even though I got injured, which is heartbreaking, I believe that I have gained so much more as an athlete. I want to do this as again, I want to do this as my career and I feel so hungry to progress as a distance runner. Toronto has taught me so much which I can take forward to future races.
It was an absolute pleasure getting to know the England team - Tish Jones, my room mate and the "choo choo train trio" - Ben Johnson, Lee Grantham and Jonathan Poole (they had their own pace train which was sabotaged by the lead African females….they should have had a ticket inspector!). A huge thank you to Spencer Duval (team manager) and Graeme Riley (Coach) for their words of wisdom and support, particularly for taking such good care of me after the race.
Thank you to England athletics for the great opportunity and to Canada running series - particularly the amazing Alan Brookes and Cliff Cunningham who were absolutely fantastic hosts. Thank you to the great team I have around me - the Rob Squad, Saucony, Forte Sports Management, Run 3D, Castle Royle, Reading AC, Alan Murchison - the performance chef, Paul Hewitt (My game coaching), Sarah Holmes, the AIR & community respiratory team at Imperial and of course my coach, Rob and my family. Also thank you to Dr Tamsin Lewis for her help and advice.
So what's next?
I am going to need to reflect, recover, rehab and plan. I am in this game for the long run (quite literally) but I need to ensure that I heal from this injury properly, without short cuts. I am going to take this time to really focus on my strength and conditioning, my health and maintain what I can with cross training (and binge watch TV series).
Apologies for all the train analogies ;)
Until next time...
You can view the race stream here: http://www.torontowaterfrontmarathon.com
{
A great learning experience for athletes in Toronto
https://www.englandathletics.org/england-athletics-news/a-great-learning-experience-for-athletes-in-toronto?returnLink=bmV3cy5hc3B4P3NpdGVzZWN0aW9uaWQ9NDImc2l0ZXNlY3Rpb250aXRsZT1FbmdsYW5kK0F0aGxldGljcytOZXdzJm9yaWdpbmFscGF0aD1lbmdsYW5kLWF0aGxldGljcy1uZXdzJnBhZ2U9MiZyYW5nZT0=
unknown

x

500
More posts by Anna Boniface